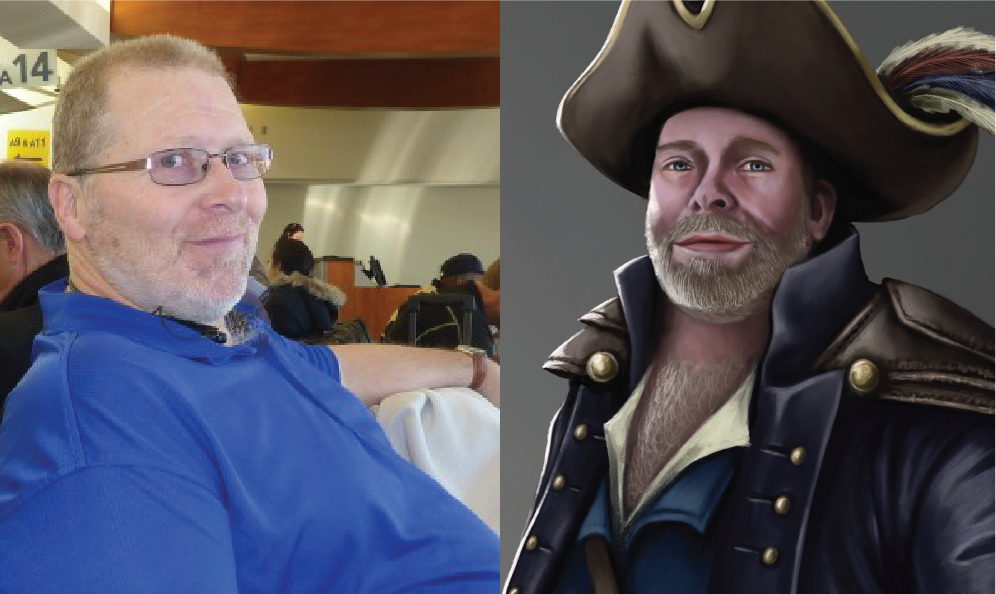 Celebrating Our Real-Life Captain Murdoch with a Raffle Giveaway!
Zale is a character very near and dear to my heart. His larger-than-life personality, mannerisms, and overall way of speaking are based on a bygone friend, colleague, and member of the family named Daniel "Skip" Person. Skip and I had a ton of fun traveling the world together and sharing life with the family. He was a goofy and loving "Pop-Pop" to my kids. He passed of a rare lung disease in December 2018 at the far-too-young age of 61.
I actually intended to create a character in the "Heroes of Time" world based on Skip a while before he passed. Starting a little over a year before the disease took him, we actively brainstormed this character together. It was Skip who came up with the idea that he should be captain of his own crew. Skip came up with the name Zale "the Gale" Murdoch, offering Augustus Macpherson as an alternative. Somewhere in the course of that, we conjured up a feisty red-panda sidekick. I so dearly wish he could be here today to see the results. I'm sure that now, from the Ethereal Realm, he looks down upon it with a riotous grin.
Zale, of course, develops as his own character, but this real-life inspiration is very much present within, from the loving Pop-Pop to the rascally scalawag. So, raise your ale in tribute to the man, the scourge, the legend! Skip, living on vicariously as Zale Murdoch.
In honor of Skip and remembrance of his passing, we are holding a special giveaway raffle of a $50 Visa gift card and signed paperback of Murdoch's Choice. You gain entries through engagement with Heroes of Time by liking our Facebook, following our Twitter, joining our Discord, and/or joining our newsletter subscriber list. This raffle is impartially hosted via Raffle Copter and will end December 20th. Just use the signup widget below!